There are multiple storage methods available, one of the most classic of which being storage units. These may be located outside as a shed or inside under a roof and provid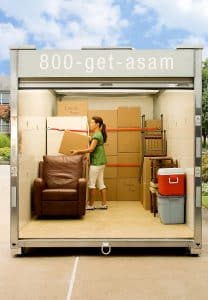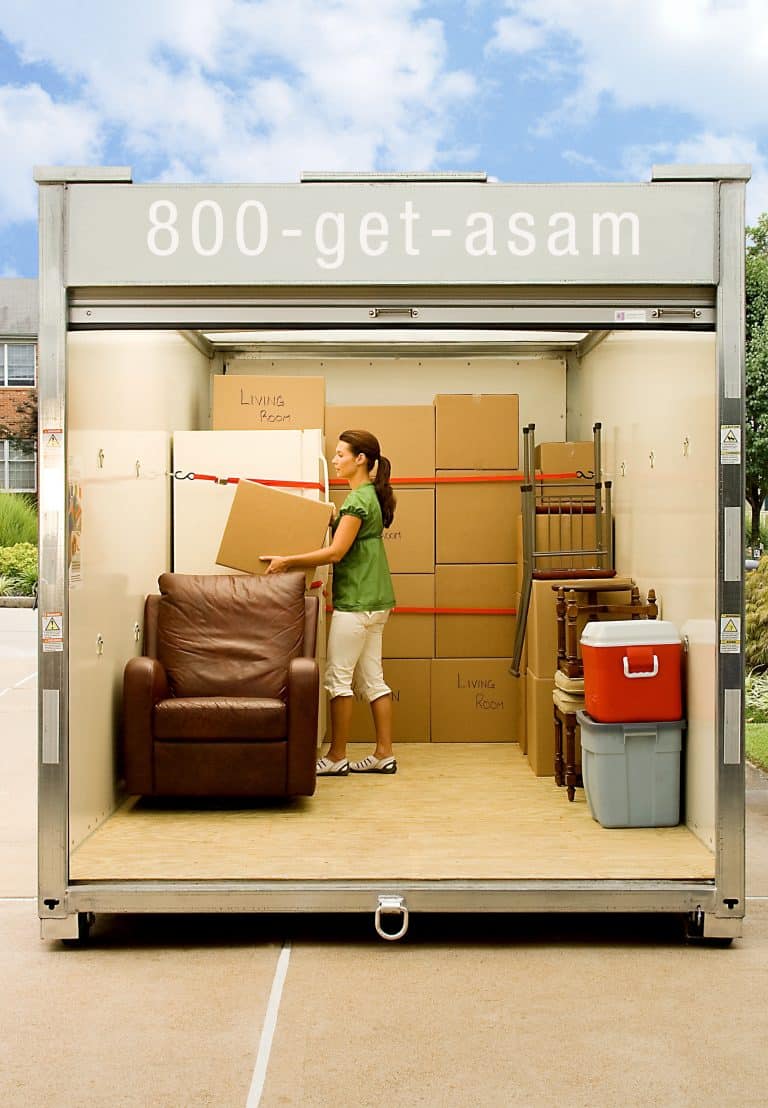 e plenty of storage space. However, they can be costly and difficult to use. SAM Store and Move provides a solution that overcomes the limitations of storage unit facilities, and therefore has numerous advantages. Some of the top reasons why SAM Store and Move is easier than leasing a storage unit are:
Convenience: When you use SAM storage containers, you have the freedom to load it at your own pace. This helps relieve some of the stress that often accompanies moving, de-cluttering, and remodeling. SAM Store and Move can also arrange loading assistance for you, further reducing your burden. This allows you to easily have all of your belongings in one place before you transport it into storage. Storage units, on the other hand, are much less convenient, often requiring multiple trips to get everything stored away.
Mobility: Once your container is loaded, you can send it off wherever it needs to go, whether a storage facility, a new home, or some other location. We arrange for long-distance moves as well. With a storage facility unit, you are limited to whatever is in driving distance of the unit, especially with the multiple trips needed to get everything moved in or out. SAM overcomes this limitation by making the storage unit itself transportable.
Service: With a storage unit, you will likely need to do all the packing and moving yourself unless you hire a moving service. Not so with SAM Store and Move. We can arrange for help with the packing, and we provide transportation of your container to wherever it needs to go. Storage and long-distance transportation are arranged with IMS Relocation.
Efficiency: Getting your belongings to your storage unit will likely take multiple trips. This is without a doubt a terrible inconvenience. With SAM, you streamline the process considerably. Once the container is delivered to your location, you can load everything up all at once. Once the container is full, it can be easily transported to storage. Then, once you need it again, it can be just as easily delivered to you from the storage facility.
Cost effective: Portable self-storage units can be expensive on their own, but using them also requires expenditures in transportation, not to mention the time it takes to get everything loaded and stored away. SAM, on the other hand, has low monthly rates and does all the transporting for you. This saves you both time and money as you put your belongings into storage.
When considering your options for storing extra belongings, SAM Store and Move provides the convenient, secure, and cost-effective solution you need. Each storage unit has enough space to hold items from most 1500 square-foot homes, and you get the convenience of loading it at your own pace. Rather than opt for an inconvenient storage unit, contact SAM for more information on our services or to get a free quote.