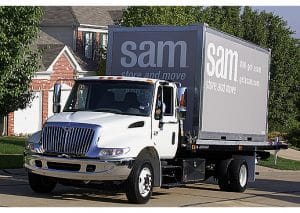 972 Get A SAM is a locally owned storage container business in the DFW area that is interested in assisting you with your DIY storage needs.  We're built to suit your needs so we can provide you with a service you want at a price you can afford.
We'll bring the storage unit to you so that you can work at your own pace and eliminate your reliance on assistance that you don't need.  You're a hard worker and you're looking for a storage solution that won't break your budget.  You pack your own boxes, wrap your own furniture, and load your own container.  We'll bring the container to you, place it where you want, and take it from you when you're done.  If you don't want to keep the storage container on your property, after you load it up, we'll store your container in our warehouse.  You just need to let us know when you want your container relocated.
Want us to move your storage from one location to another?  As long as both locations are in and around Dallas or Fort Worth, we can do that for you.  You provide the labor and keep your items as protected as you want and we'll keep your cost down.  We can provide advice on how to protect your items while they're in storage.  If you're not comfortable with your DIY skills, we can provide advice and perhaps offer you another solution that perfectly fits your exact need.  It doesn't hurt to ask our professional staff because we're here for you.
Pricing is simple and fast!  If you want to store the container on your property we'll give you a great price on that.  If you want us to store it in our warehouse it costs just a little more.  We'll serve you by bringing the container to you and the cost of the service depends on the distance from our Carrollton, TX building.  So all we need to know is: How many containers you need, where you would like to store your container, and when you want it.  To begin your storage project today, either fill out the "Get a Quote" form on our website or call us at 972-GET-ASAM (972-438-2726).