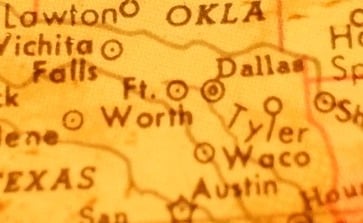 The DFW Metroplex is unique from most other major metropolitan areas in that it covers a large amount of space. In fact, Dallas-Fort Worth is one of the biggest metro areas in the country by physical area. As such, it is ideal for people considering storage containers. 
Let's discuss why storage containers are uniquely suited for Dallas-Fort Worth residents.
DFW's Large Physical Area
The Dallas-Fort Worth area covers more than 9,200 square miles of total area and is home to more than seven million residents. It's the largest inland metropolitan area in the United States, according to the city of Frisco. It easily takes an hour or more to travel from a suburb in West DFW like White Settlement to a suburb in East DFW like Forney. As such, moving to any location even just within the Metroplex can be an ordeal, but storage containers make it easier.
Wide Variety of Industries in DFW
From construction and roofing to painting and HVAC, there are a wide variety of industries in Dallas-Fort Worth that can benefit from using storage containers for jobsite storage. These portable storage containers are perfect for companies and professions that frequently move from one location to another, as they allow equipment and supplies to be kept close. There are fewer trips to the store as a result and projects are more efficient.
Increase in DFW Home Renovations
With more people staying home because of the coronavirus pandemic, home renovations in Dallas-Fort Worth and across the country are on the rise. In June 2020, for example, some home remodeling platforms showed a 58 percent increase in project leads. Storage containers are perfect for home renovations, as they allow you to securely and safely keep belongings out of the way until the project is complete. Once you're done with your home renovation, simply call the company to have the container picked up.
Avoiding Construction and Traffic
According to CBS News, Dallas-Fort Worth has the 35th-worst traffic in the country. Things are only getting more congested as the area experiences a population boom and more road construction projects are started. With storage containers, you can avoid construction and traffic during your move, which can save you time, money and a whole lot of sanity.
If you're interested in using a storage container in Dallas-Fort Worth, give us a call at 972-GET-A-SAM for a no-obligation quote.