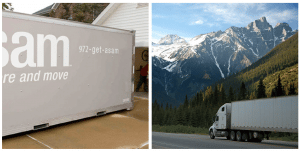 To use a moving truck, or not to use?
It's not an age-old question… it's a modern one. Today, you have the option to choose between a moving container, a moving truck and other options when it's time to relocate.
Let's break down the advantages that moving trucks and moving containers each bring to the table and help you pick the right one.
Moving Truck Advantages
With moving trucks, you may feel like you have more control over the transportation of your belongings—if you rent and drive the truck yourself, at least. But you won't be able to store your belongings in the truck once you're at your destination. Moving trucks are versatile, though, as you have plenty of truck size options to fit your needs.
Additionally, you'll have more control over when your items arrive, as you'll be the one doing the driving (though this isn't the case if you hire someone else to transport your belongings). Other advantages include the ability for some trucks to tow a car and there are minimal parking restrictions as well.
Moving Container Advantages
Moving containers, on the other hand, are more hands-off and stress-free. While you do have to do the loading/unloading yourself (unless you hire someone), you can do it on your timetable. You don't have to worry about transportation, however, and you can schedule delivery as well. Moving containers come in several sizes and have plenty of room for storage—which, by the way, is available for as long as you want. You can store a container on site or in a warehouse.
Another advantage that moving containers offer is an all-inclusive price—no worrying about gas or mileage. Simply call for delivery and pickup and worry about other aspects of your move. Finally, moving containers are easier to load than moving trucks, as containers are ground level and trucks require long ramps or a lot of heavy lifting.
Making the Right Choice
Both containers and trucks are the right choice for the right situation and they do share a lot of similarities. The pricing is similar and loading/unloading is an additional service you can buy. It really boils down to convenience and control. Do you want to have the ability to drive your moving truck yourself, or do you value the conveniences that a moving container provides? Do you prefer the towing capabilities of a truck or the easy loading of a container? These are all factors to consider when making your decision.
If you're interested in a moving container, contact us at 972-GET-A-SAM today for a no-obligation quote. Or, fill out our form online.