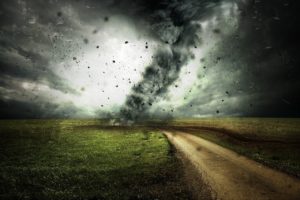 Whether it's a hurricane, an earthquake, a tornado or something as simple as a fallen tree, disasters can cause all sorts of problems. Problems with your home, problems with insurance, problems with family… the list goes on.
Today, we'll focus on your belongings—specifically, what to do with them when you have to remodel your home, or otherwise secure your belongings during repairs, because of a natural disaster. Then, we'll discuss how temporary storage containers can help.
What Happens to Belongings After a Natural Disaster
There are several different scenarios that can happen to your belongings when it comes to a natural disaster. Some impact your belongings directly, while others deal more with your belongings getting in the way of the restoration/renovation process. It's important to be aware of (and prepared for) all scenarios.
Here are a few examples of what might happen:
They're destroyed: It's always possible that your household belongings might be unsalvageable or unusable. If they're destroyed, your only options are removing and discarding or recycling them. A junk removal company can help here. You'll also want to be mindful of your insurance during this process.
They're damaged: It's possible the items are damaged and can be repaired. Or, they might be wet and need to dry out. Either way, you'll have to sort through which items are still usable and which aren't.
They're in the way: If your home is damaged and you need to renovate, you have to do something with the items occupying the space. They should be temporarily stored in an off-site location or in another area of your home.
They're inaccessible: A disaster might cause some items to be inaccessible, meaning you can reach them and evaluate their condition until restoration work is started.
How Temporary Storage Containers Can Help
Whatever situation you're dealing with after a natural disaster when it comes to your belongings, a temporary storage container may be able to help. Temporary storage containers give you an on-site solution for storing belongings after a natural disaster, whether you need to sort through damaged items, temporarily remove items that are in the way or store equipment and supplies as you renovate your home. Temporary storage containers are spacious, sturdy and have a variety of other features that are useful after a tornado, hurricane, earthquake or other event.
When the next natural disaster comes your way, be prepared with a solution for your belongings. Call 972-GET-A-SAM to learn more about our temporary storage containers.