Moving or storing items always carries with it concerns. Aside from the logistics of actually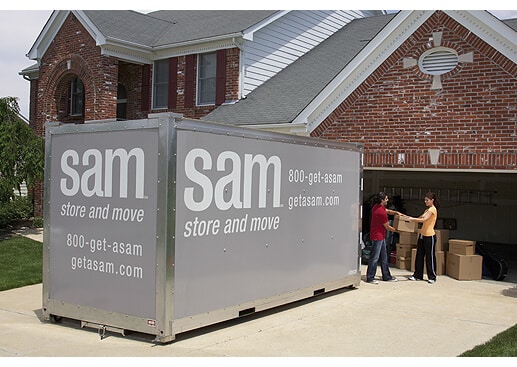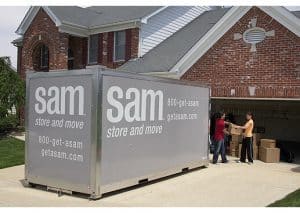 packing up and moving your belongings, there are other items to consider. These include which moving/storage service you should choose, which ones are most secure, and what they will cost you. In some cases, you might wonder whether a storage service is truly reliable.
SAM Store and Move delivers secure storage containers directly to your home so that you can pack them up in your own time. Each container is designed for security and ease of use, and our service is both reliable and secure. Some of the features of our SAM mobile storage containers include:
Plenty of space: Each container is 8 feet high by 8 feet wide by 16 feet long, affording enough storage space for the contents of a 1,500 square foot home. This size makes SAM portable storage units ideal for short-term storage as well as moving to a new home.
Smooth walls: The smooth walls on our units help protect your items from dings and dents that may occur when moving the container around. The walls also protect your belongings from the elements while in storage.
Structural reinforcements: In addition to their smooth texture, the walls are made of fiberglass reinforced material, much like the walls on a moving truck. In conjunction with galvanized steel framing, which can last decades without rusting, this helps provide the security you need for your stored belongings.
Translucent roof: Packing can be a hassle in and of itself, and it can be doubly so when you can't see what you're doing. The translucent roofing on SAM storage units allows natural light into the container, allowing you to see better as you pack. It also helps make it a more aesthetically pleasant experience since natural light does help improve your mood.
Double locks: An extra lock means extra security, which is why the roll-down doors on our mobile storage containers have space for two locks.
Tie-down rings: Sixteen tie-down rings line the walls of each unit. They are arranged in such a way that they provide optimum stability to boxes, furniture, and appliances inside the unit, preventing them from shifting and knocking into each other during transport.
Visual appeal: A storage unit does not need to call attention to itself. In fact, it is preferred that it not do so while you have it sitting in front of your home for everyone to see. The muted coloring and simple design of each unit allows it to blend in with the background while you load it. This is in contrast with brightly colored units that can be an eyesore.
These features of moving containers, plus the fact that SAM will deliver, move, and store your container as part of the service, take away much of the stress associated with storing and moving your possessions. Renting portable storage containers can also cut down on the monetary costs associated with moving or storage. In order to find out more about how SAM Store and Move can benefit you, or to get a free quote, contact us today.