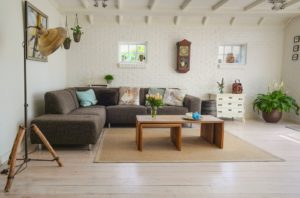 North Texans declutter or stage their homes for a variety of reasons. Sometimes, it's because family or friends are in town. Other times, it's because they're hosting an event. The most common reason, however, is because they're selling their home.
Approximately 130,000 people moved into the Dallas-Fort Worth area in 2018 alone, according to D Magazine. A third of them wanted to buy new homes. So, how do you appeal to new DFW residents? By presenting your home in as positive a light as possible. That's where decluttering and staging steps in.
Decluttering vs. Staging
First, let's define the two. Merriam-Webster defines "declutter" as a way "to remove clutter from a room, an area, etc." As for staging, it's more of an "act" or play—it has a defined audience. While decluttering can be done at any time to free up space and make your home more presentable, home staging is often done with a specific intention (usually making a home presentable with the intention of selling).
Decluttering Tips for Dallas Homes
One of the best ways to declutter your Dallas home is to rent a portable storage container. Portable storage containers in Dallas-Fort Worth are more convenient than ever these days, with companies like 972-GET-A-SAM offering to deliver the storage container to your location. This lets you load them up with your clutter at your convenience, then call to have them picked up.
Here are some other tips for decluttering your home effectively, courtesy of Zen Habits:
Clear a starting zone

Start small (e.g. clearing off a counter)

Schedule a decluttering weekend

Visualize the clean home you want

Teach children where things belong

Learn to file quickly

Donate, sell, get rid of or store seasonal clothing
Staging Tips for Dallas Homes
Like decluttering, a portable storage container can help you stage your home to sell it (or for numerous additional reasons, like a TV interview as one example). After all, you can rent the container for as long as you want, even if it's as short as a month. This is perfect for home-selling situations, which can last several months.
Here are some other tips for staging your home effectively, courtesy of HGTV:
Invest in new appliances

Add a new coat of paint to the most visible rooms

Clear clutter or personal items

Use tape outlines on the floor instead of moving furniture

Let the sun in or turn on several lights

Get rid of items with strong odors

Clear out storage areas

Create a nice flow in your rooms
If you're planning to declutter or stage your home in the near future, contact 972-GET-A-SAM for a free quote today.