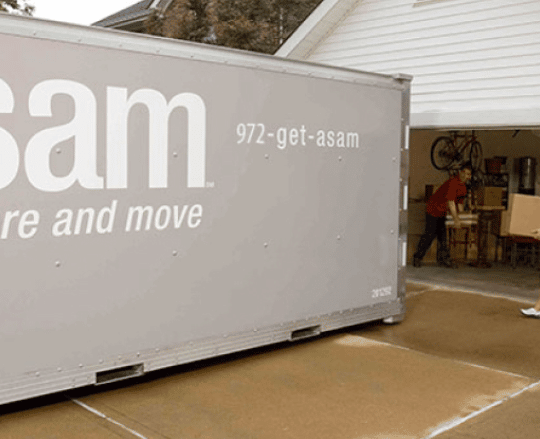 They say you don't know what you have until it's gone. But what if it was never there in the first place? Some of the most beneficial and enjoyable things in life are missed because people don't try them out. This includes portable storage containers.
Many people don't use storage containers because they aren't aware of their benefits. You simply call to have the container delivered to your home, load it up at your convenience and call again to have it picked up. Let's dive deeper into the details of self-storage with home pickup.
What Is Self-Storage with Home Pickup?
In case you aren't aware, self-storage with home pickup is pretty similar to what it sounds like. The "self-storage" part refers to a portable storage container made from galvanized steel that can hold the contents of a typical 1,500 square-foot home. As for the home pickup part, this refers to the fact you can get your storage container delivered to the location of your choice (such as your home). After you're done loading the container, you call the storage container company to have it picked up. It's that simple!
Benefits of Self-Storage with Home Pickup
People who haven't tried self-storage with home pickup usually rely on traditional movers or storage units at facilities. But they're missing out, as self-storage with home pickup combines the best of traditional moving and storage without including any of the drawbacks. Here are some of the benefits of self-storage with home pickup:
Convenience: Just like groceries delivered to your home are more convenient than a trip to the grocery store, self-storage with home pickup is more convenient than transporting your belongings to a facility. You don't have to rent a truck or waste time with transportation or loading/unloading more than is necessary.
Less stress: With traditional moving scenarios, you often only have the truck for a limited amount of time (or you're paying extra if you keep it too long). With portable storage containers, you can load or unload on your timetable—no stress involved.
Secure: Sturdily constructed and featuring two lock options, portable storage containers are resistant to both adverse weather and potential thieves.
Affordable: The costs for self-storage with home pickup are comparable to other options, as you're not renting a truck nor responsible for transport.
Why SAM for Self-Storage with Home Pickup?
SAM (Store & Move) specializes in self-storage with home pickup. Our portable storage and moving containers are designed with quality in mind to protect your items. Unlike other companies, our containers also have unique features like smooth walls (to avoid scratches/dings), tie-down rings, heavy-duty security latches and transparent roofing. Our storage and moving experts are dedicated to professionalism and customer service, so you're sure to be more than satisfied with your experience.
If you're interested in self-storage with home pickup, give us a call at 972-GET-A-SAM today for a no-obligation quote.