At SAM Store and Move, we understand that moving can not only be stressful, but also expensive.  You've just made a huge investment in your new home, so money may be tight.  You don't want to break the bank, but you don't want to skimp when packing and transporting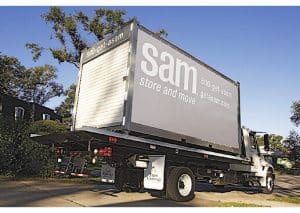 all of your belongings either.
Here are a few ways that you can save some money on the moving cost without compromising on the safety of your family's belongings.
1. Do a cleanse – Simply cleaning out what your family no longer uses is often the easiest way to save on moving costs.  Don't wait until you've already taken the time to pack everything to decide you don't have a need or sufficient space for it all.  Check measurements of bulky furniture with the dimensions of your new living space before going to the trouble and expense of packing and moving it.  Throwing out, donating, or selling some of your family's unwanted belongings can earn you some extra money, free up packing space, and eliminate excess weight.
2. Don't pay for boxes – From boxes, to packing tape, to bubble wrap or packing paper, and other moving supplies, most people find themselves spending upwards of $500 on supplies alone.  It is important to make sure that you are using supplies of sufficient quality to protect your family's belongings, but that doesn't always mean you have to spend a fortune.  Boxes are the basis of any move and can prove quite expensive, but there is really no need to go out and purchase them.  There are a variety of ways to get good quality cardboard boxes for free.  You can get boxes ideal for packing from friends who have made a recent move, from your workplace, on websites such as Freecycle, or in the recycling area in your neighborhood.  Recycled boxes, such as printer paper boxes or boxes discarded by your local liquor store, make great sturdy packing boxes.
3. Pack properly – When packing your family's belongings, you don't want to rush and end up with broken china and family heirlooms.  Broken belongings can be expensive, and even impossible to replace.  This is why it is important to take extra care and time when packing.  You should make sure that all your boxes are sturdy and that you wrap all your fragile items well.  Wrapping well doesn't have to mean spending an arm and a leg on loads of bubble wrap and packing peanuts.  Make use of what you already own.  Towels, blankets, and clothes are great tools for wrapping up your breakable belongings.  However, this cheap alternative can make for a lot of dirty laundry to deal with when you're settling into your new home.  Unlike newspaper, which transfers ink, coffee filters can be another effective and affordable alternative to wrap fragile items.
4. Check with the IRS – If you are moving within a year of starting a new job, you may be eligible for a tax return.  If you meet certain distance and timeline requirements, you may be able to claim your moving expenses, including packing materials, shipping expenses, travel costs, and utility fees.  This makes keeping track of every moving expense very important.  Keep all your receipts and check the IRS website to see if you are eligible.
5. Let someone else do the driving – By someone else, we mean SAM Store and Move.  We will drop off our state-of-the-art portable storage and moving container at your house and let you do your own packing at your own pace.  When you're done, let us know and we will take it from there.  Our drivers have the training to safely deliver bulky and fragile loads.  This will save you the trouble, expense, and stress of attempting to drive your own load.  While you worry about getting your family to their new home, our drivers will safely deliver all of your belongings.  SAM Store and Move can help you with any and all of your storage and moving needs.  Give us a call today and let us make your move as stress-free as possible.