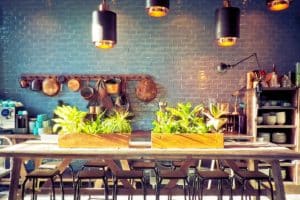 When you were younger, you might have heard your parents or grandparents use the phrase "make do." It means to manage with the limited or inadequate means available. For small spaces in residences, you might not have the budget or room to expand it. You have to "make do" to get the most out of the space that you can.
Whether you're trying to make the most of a small kitchen or transitioning to a smaller living environment, there are ways to make the most of your space. Here are five of them.
Change Up the Lighting
Lighting can have a big impact on how a space looks and feels. You have options when it comes to the types of lightbulbs you use, the housing for the lighting and the colors that the light falls on. Consider giving your space a fresh coat of paint and changing up the lighting as well.
Add Mirrored Accents
A room can also look bigger when you add a mirror to it. A small closet or bathroom, for example, can feel more spacious when you add an over-the-door mirror to it. Or you can install a large mirror in a small bedroom to make it feel more roomy. Another option is adding a mirrored accent, such as mirrored backsplash in the kitchen.
Consider Alternative Storage Options
Are you storing all your pots and pans in a cabinet in your kitchen? Free up that valuable space by hanging them up instead. Or, install an under-the-cabinet utensil tray to free up a drawer that is housing your knives, forks and spoons. You can also store household items you don't use very often in a residential storage container. 
Make Use of the Entire Space
Are there any areas of your small space that you're not currently utilizing? There might be room to add storage to the inside of your doors with hanging storage bins or spice racks, under your cabinets or in an elevated cubby. Many people often have a drawer or two they're not using at all. Make sure you're using the entirety of your space if you want to make the most of it.
Add Shelves or Cabinets
If there aren't any hidden or extra storage options, you can make your own by installing shelves or cabinets. Your walls can be tremendous resources in small spaces. Use your imagination and create your own storage! Who knows, it might even make an eye-catching display piece.
If you're in need of storage solutions for your residence, give the SAM (Store & Move) team a call today at 972-438-2726.